­
Chairman


Most Rev. Victor Henry Thakur
Archbishop of Raipur
Archbishop's House
Byron Bazar, Raipur – 492 001
Chhattisgarh, India
Phone: +91-771-4052429, +91-8109147288
Email: kbnivas@gmail.com
——————————————————————————————————————–
Executive Secretary 

Vacant
Contact Deputy Secretary General
CCBI Centre, P.B. No. 8490
Hutchins Road 2 Cross, Bangalore- 560084
Karnataka, India
Tel: +91-80-25498282, 9632381810
Email: ccbisecretariat@gmail.com
——————————————————————————————————————–
Member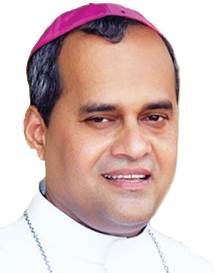 Most Rev. Elias Gonsalves
Archbishop of Nagpur
Archbishop's House
Mohan Nagar, Nagpur – 440 001
Maharashtra
Phone: +91-712-2533239; 0712-2560780
Email: nagpurarchdiocese@gmail.com
——————————————————————————————————————–
Member
Most Rev. P. Soundararaju, S.D.B.
Bishop of Vellore
Catholic Bishop's House
34, Officers' Line, P. B. No. 107
Vellore – 632 001, Tamil Nadu
Phone: +91-416-2232570; 0416-2232699
Email: soundarajbishop@gmail.com
——————————————————————————————————————–
Migrant Commission
Pastoral care of migrant families were one of the major concerns of the CCBI after the implementation of the Pastoral Plan in 2013. The 74th Executive Committee meeting of the CCBI held at Delhi and the 75th Executive Committee meeting held at Bangalore decided to have Migrant Commission for the CCBI. The members of the 29th Plenary Assembly held from 31st January to 8th February 2017, Bhopal voted for the Migrant Commission.
The Migrant Commission of the CCBI was established on 2nd May, 2017 and the members of the 77 Executive Committee of the CCBI held at Bangalore elected Archbishop Victory Henry Thakur as the ad hoc Chairman.
Former Chairmen
1. Most Rev. Victor Henry Thakur, Raipur: 2019-
Former Executive Secretaries
1.