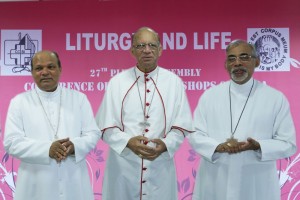 Bangalore, February 7, 20015  – Cardinal Oswald Gracias has been re-elected as the president of the Conference of the Catholic Bishops of India (CCBI) at its ongoing 27th Plenary Assembly in Bangalore.
Along with Cardinal Gracias, Archbishop Filipe Neri Ferrao of Goa was reappointed CCBI Vice President and Bishop Varghese Chakkalakal of Calicut as CCBI Secretary General at the
February 3-9
CCBI Assembly attended by 140 bishops from 131 Latin rite dioceses in the country.
Archbishop of Bombay, Cardinal Gracias is also the president of the Federation of Asian Bishops' Conferences (FABC) and one of the eight-members of the Council of the Cardinal Advisers of Pope Francis.
The Conference of Catholic Bishops of India (CCBI) is the largest Catholic Bishops' Conference in Asia and the fourth largest in the world.
Rev. Dr. Stephen Alathara      
Deputy Secretary General, CCBI
Phone: 09448131810