Chairman


Most Rev. Derek Fernandes
Bishop of Karwar, Bishop's Office
Puneeth Sadan, Shirwad
Karwar – 581 306, Karnataka, India
Phone: 08382-282364, 282363, Fax: 08382-282452
Email: karwardiocese@gmail.com
Email: derekfds@rediffmail.com
——————————————————————————————————————–
Executive Secretary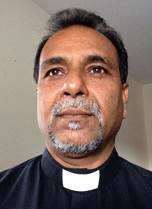 Rev. Dr. Irudaya Raj S.
Morning Star Regional Seminary
Barrackpore – Barasat Road
Sewli – Telenipara PO. Nilganj
Calcutta – 700 121, West Bengal, India
Phone: 098306 44543
Email: fr.raajjoo@gmail.com
——————————————————————————————————————–
Member


Most Rev. Sebastian Thekethecheril
Bishop of Vijayapuram
Vijayapuram Bishop's House,
P. B. No. 82, Kottayam – 686 001, Kerala
Phone: +91-481-2563747, 0481-2565767
Email: getsecretary@yahoo.co.in
Email: bptcheril@gmail.com
——————————————————————————————————————–
Member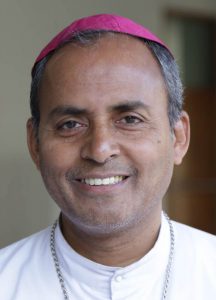 Most Rev. Cajetan Francis Osta
Bishop of Muzaffarpur, Bishop's House
Kalambagh Road, Muzaffarpur- 842 001
Bihar, India
Phone: +91-9631120770, 9430245428
Email: mdiocese@gmail.com
Email: frcfosta@gmail.com
——————————————————————————————————————–
Vision and Mission Statement for the Commission
Vision provides a guide, a blueprint giving direction to one's efforts. The member bishops and the consulters prepared the following Vision and Mission Statement for the Canon Law Commission:
Vision
To establish the kingdom of God by promoting the values of Love, Truth, Justice, Peace, Harmony and Communion.
Mission
The commission for canon Law and Other Legislative Texts by its planning and programmes will reinforce these values and create, strengthen and sustain effective administrative and pastoral structures in a true spirit of Christ and according to the mind of the Church, which will promote a healthy and participatory Church, which will reflect the kingdom of God.
By these activities, the Commission will work to realize the kingdom of God in India.
Former Chairmen
1. His Eminence Oswald Cardinal Gracias, Bombay: 1998 – 2006
2. Most Rev. Anthony Anandarayar, Pondicherry: 2006 – 2015
3. Most Rev. George Antonysamy, Madras-Mylapore: 2015-2019
4. Most Rev. Derek Fernandes, Karwar: 2019-
Former Executive Secretaries
1. Msgr. Joseph Chinnayyan: 1988-2003
2. Fr. Dominic Savio Fernandes: 2003-2005
3. Fr. Peter Thumma: 2006-2010
4. Fr. Arulselvam Rayappan: 2010-2018
5. Fr. Irudaya Raj S. 2018-